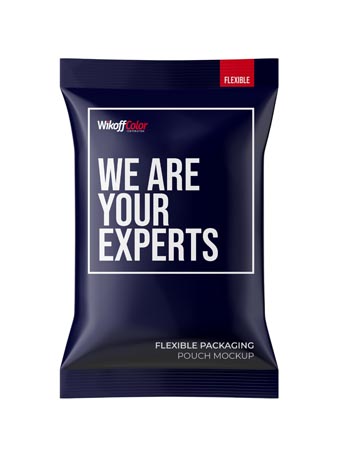 A high performance gravure lamination ink series designed for plastic films that are used in flexible packaging structures. Printed films bonded by adhesive lamination to functional films or backing films are readily converted into pouches for snack, confectionery foods, personal care, cosmetic and other packaged goods. Strong adhesive lamination bonds in package structures. Ink series has excellent print quality on plastic films, system wipes clean without haze for a gravure ink series combined with minimal cylinder abrasion and blade wear. Colorants have clean and very fine dispersion quality for minimal cylinder abrasion and blade wear. Excellent adhesion to specified substrates. Compatible with Urethane type adhesives to form strong film laminate structures.
Strong laminate package structures with a variety of adhesives whether solvent-less or solvent based
Bond integrity is maintained with printed graphics under high temperature sealing conditions.
Ink series provides strong colors with excellent print quality, multi-color trapping along with low levels of retained solvents. Available as finished inks or as color concentrates and technology varnish system.
Substrates
Treated polyolefin films, Polyethylene and Polypropylene
Treated Polyester
PVDC coated Polyester