As part of Wikoff Color's commitment to driving the printing industry forward to a more sustainable future, we work hard to build relationships with vendors and customers who share this same vision. In this post, we'd like to introduce one of our partners in environmental stewardship, Glenroy.
Based out of Menomonee Falls, WI, Glenroy is a leader in sustainable flexible packaging. Their innovative environmental initiatives are changing the way printers, manufacturers, retailers and consumers think about and interact with recyclable packaging. Wikoff provides the inks used by Glenroy to create their broad line of pioneering solutions.
We'd like to thank Marketing Manager Ken Brunnbauer and Digital Marketing Specialist Sara Januszewski from Glenroy, who took the time to meet with us and discuss this important topic.
One Simple Goal
Glenroy's ultimate vision can be whittled down to one simple goal: To lower the carbon footprint produced by packaging.
Part of what makes the company unique is that they're attacking the problem in so many different ways. While the average consumer believes the only factor that makes a package environmentally friendly is recyclability, the leaders at Glenroy understand this is only the beginning.
The company's packaging design process focuses on full lifecycle benefits. Recycling is part of the equation, but not the whole picture. Additional measures that are achieving a drastic reduction in packaging waste include: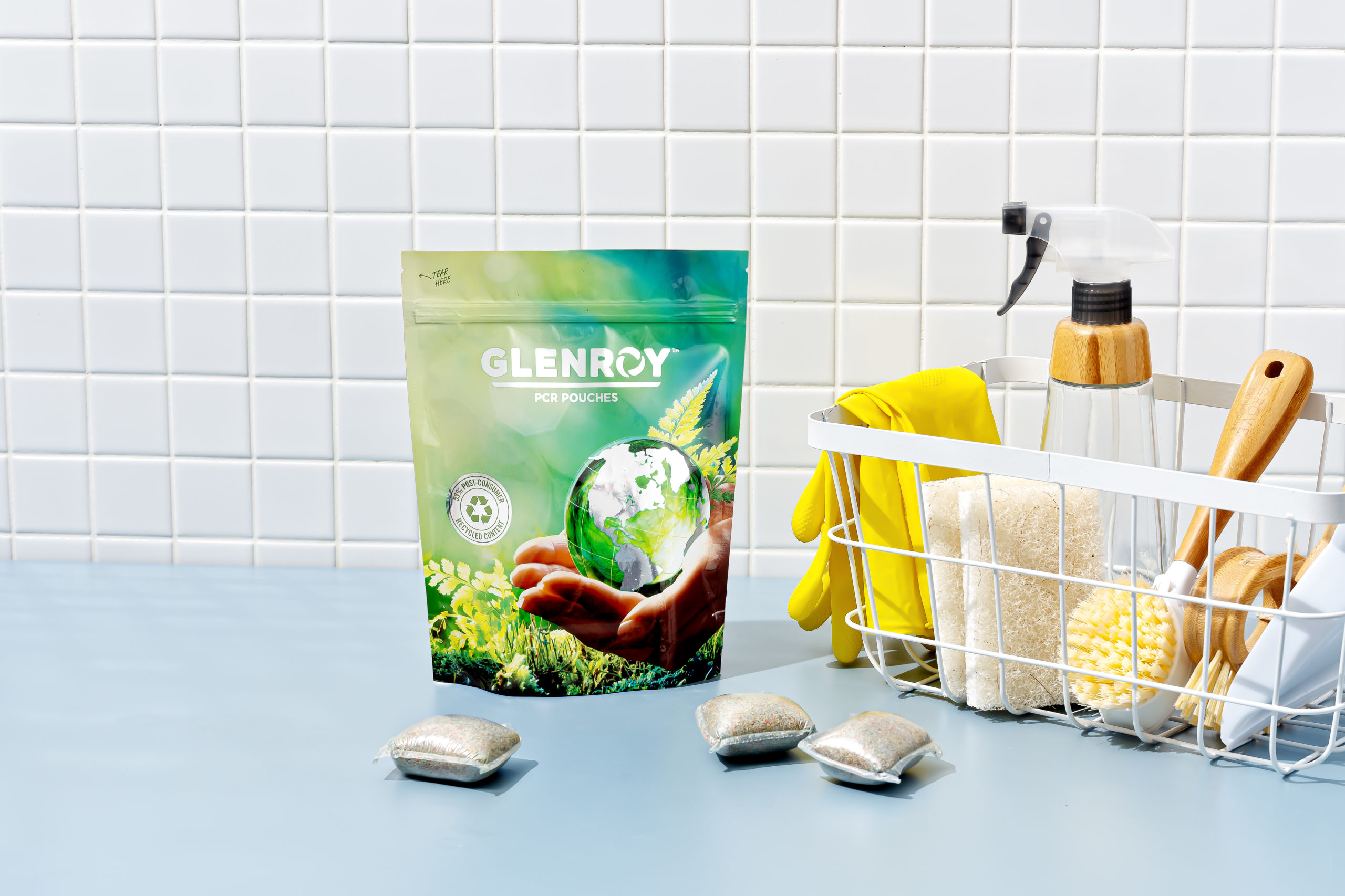 Using less water during the production process
Designing lighter packaging to reduce transportation emissions
Relying wholly on domestic assembly to further reduce transportation needs
Increasing post-consumer materials sourcing
Using environmentally friendly inks, solvents and materials
Improving the product to package ratio
TruRenu™ Sustainable Flexible Packaging
Glenroy produces an incredibly wide selection of different types of flexible pouches that are capable of replacing most traditional packaging systems, including cans, glass jars, and even spray bottles – but their TruRenu™ line takes the concept of sustainability even further.
What makes the TruRenu™️ portfolio unique is that it features store drop-off recyclable film and pouches. Brands using these structures facilitate consumers being able to easily recycle empty pouches by using the retail store drop-off bins (found outside most retail stores throughout the United States). In addition, TruRenu™️ film and pouches are available with up to 53% post-consumer recycled (PCR) content. Made from milk, juice, and water bottles, this format truly enables the circular economy.
Why Inks from Wikoff Color?
We asked Ken and Sara to share a little bit about Glenroy's relationship with Wikoff and why we're a good fit for their brand and vision.
"Glenroy strives to make sure all our vendors and partners provide the highest quality products for our customers. Wikoff's inks create the look and feel of the packaging our customers and consumers are after. Their commitment to customer service is an ideal fit for our brand, allowing us to create a successful collaborative environment."
They went on to talk about Wikoff's technical capabilities, and how color matching and blending are vital processes for accomplishing their goals and achieving their ideal final product.
Get to Know Glenroy
Founded in 1965, Glenroy is a privately held, family-owned company. Flexible packaging is all they do, and they have recognized that the way forward is to focus on environmentally friendly efforts and messaging.
Learn more about Glenroy by visiting their website glenroy.com. For up-to-date discussions on sustainable packaging with industry leaders and related consumer education topics, listen to Glenroy's Flexible Packaging Round Table podcast, led by Sara Januszewski.